Q&A with creator Nathan Hale, Part 2
Nathan Hale is the creator of the new series Nathan Hale's Hazardous Tales from Amulet Books. It's a fun graphic novel approach to true stories from the United States told from the point of view of Nathan Hale – the real life spy – who has been given the gift of insight into the country's history right before being hung as a spy. He's joined on his journey by a comical hangman who was about to hang Nathan Hale, as well as a stoic British Provost who was to witness the hanging. In order to prevent himself from being hung in the gallows, he must regale the two men with true tales from America's history. The first two volumes – One Dead Spy and Big Bad Ironclad were published in August 2012.
Here concludes our two-part interview with Nathan Hale:
How long did it take you to create both volumes?
It took about a year to do both books. Six months each.
Any chance we'll see the Hangman strike out on his own adventures?
I don't have any plans to take the Hangman off of the gallows–but it would be totally fun to send him off into a non-historical adventure. Something wacky like Michael Rex's FANGBONE. Now you've got me thinking…. But, no, for now he's all about the history!
SCROLL TO KEEP READING THIS POST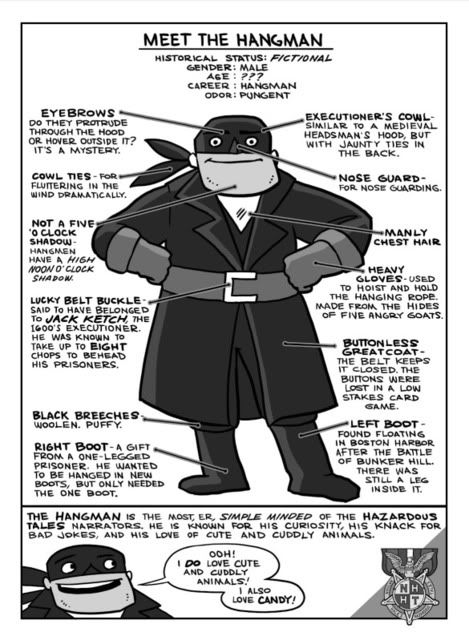 How is working on Nathan Hale's Hazardous Tales different than working on Rapunzel's Revenge and Calamity Jack?
So, so different. Jack and Rapunzel's adventures are in full color and a done in a much more detailed, fantastical drawing style–and they are on bigger pages. The Rapunzel books took much longer to draw and color. Hazardous Tales requires more visual reference. Things have to be accurately depicted. In Rapunzel, I could just make up things (here's what I think a fairy's house looks like, etc.) The other big difference is that I'm writing the Hazardous Tales books. I can change, edit and rewrite each page as I draw it. That alone makes the process extremely different.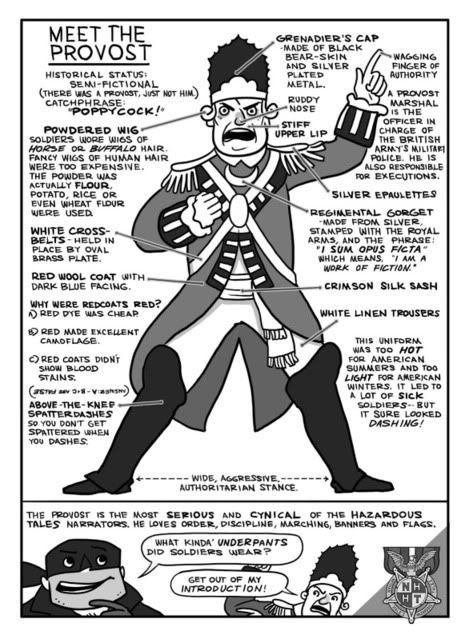 Did you always have a love of American history?
No, I'm very, very late to the party. I remember mildly enjoying history in school, but I didn't actively seek it out. I'm really digging into history for the first time now. I'm discovering just how exciting it all is. I hope that adds a sense of freshness and wonder to my take on the stories. Because the stories are fresh and new to me.
You created Big Bad Ironclad first before One Dead Spy and both took you 6 months to complete each book. Any reason why you didn't do them in chronological order?
I had an initial plan to put a little of Nathan Hale's personal story into the introduction of each new book. So that over time the reader would piece it all together. My editor had a far better idea: to put Nathan Hale's whole story into the first book. So while they were fact-checking and editing the One Dead Spy manuscript, I jumped into drawing Big Bad Ironclad, which was already proofed and edited.
Are you still using a reverse circadian night cycle (sleeping during the day, working at night) to work on these books?
SCROLL TO KEEP READING THIS POST
No, not yet. But I will if I get too far behind. I reserve that for emergencies. I need a good two or three month stretch to really get the most of it. And I can't do it during summer (I have young kids) or during the holidays. But I'm looking at early 2013–it could happen again. It's amazing what you can get finished with zero distractions.
Do you have any other projects coming up as well?
I had a silly picture book launch the same week as the Hazardous Tales books. It's a spoof of the well-loved children's book classic Madeline. It's called Frankenstein by Ludworst Bemonster. It is written by author Rick Walton and illustrated by me. If you look very closely at the illustrations, you may spot a French relative of the Hangman.
I'm also working on the next two Hazardous Tales books (out next summer/fall) and posting weekly updates on the Hazardous Tales blog: www.hazardoustales.com –new one-page cartoons about US history pop up every Monday.
Finally, will we finally see Nathan Hale hanged or are the tales of America endless?
I can't spoil the ending. But I certainly don't want to see Nathan Hale hang. I'm working on the third and fourth books right now, so we know he has at least two more tales in him. Let's hope there are more–many, many more!
Filed under: Reviews
About Mike Pawuk
Mike Pawuk has been a teen services public librarian for the Cuyahoga County Public Library for over 15 years. A lifelong fan of comic books and graphic novels, he was chair for the 2002 YALSA all-day preconference on graphic novels, served as a judge for the Will Eisner Awards in 2009, as well as helped to create the Great Graphic Novels for Teens selection committee for YALSA. He is the author of Graphic Novels: A Genre Guide to Comic Books, Manga, and More, and co-author of the follow-up book Graphic Book II both published by Libraries Unlimited/ABC-CLIO Publishing.