Free Comic Book Day – Saturday May 5th!

Free Comic Book Day is once again here this Saturday, May 5. Now in its tenth year, it's the annual celebration of comic book stores and the love of reading, and best of all, there are some great free comic books made especially for the day. What is Free Comic Book Day, you ask? It's an annual promotional event by the North American comic book industry to bring new readers into local comic book stores. The event is coordinated by Diamond Comics Distributors and serves to introduce everyone to the joys of reading comics and to thank the current readers for their support and love of the medium.
On Free Comic Book Day (FCBD) you can stop by your local comic book shop (and participating library as well) and find a selection of great titles for all ages there, plus great special events, author and illustrator signings at select stores, and plenty of fun. Don't know where to go for your Free Comic Book Day comics? Just use the handy store locator here to find out where they are, where to pick up your free comic books, and how to support your local business.
SCROLL TO KEEP READING THIS POST
Wondering what fun things are happening? My local comic book shop, Carol & John's in Rocky River, Ohio, for example is having a midnight debut at 12:01am on May 5th where adults can get a limited edition FCBD Ale, free comics, limited edition prints, great sales, and more.

.
My own library branch will be celebrating FCBD in conjunction with our local comic book shops by passing out the same FCBD books, and we will also have an Avengers trivia contest, free popcorn, a super-hero video game room, a caricature artist, costumed superheroes on hand for pictures, and door prizes. It's always a lot of fun.
There are a lot of free comic books available for the day in limited supply – a grand total of 42! You can view a complete list of comic books available here. Here are some highlights of the FCBD titles coming out which will be great for younger readers, with information supplied by the publishers: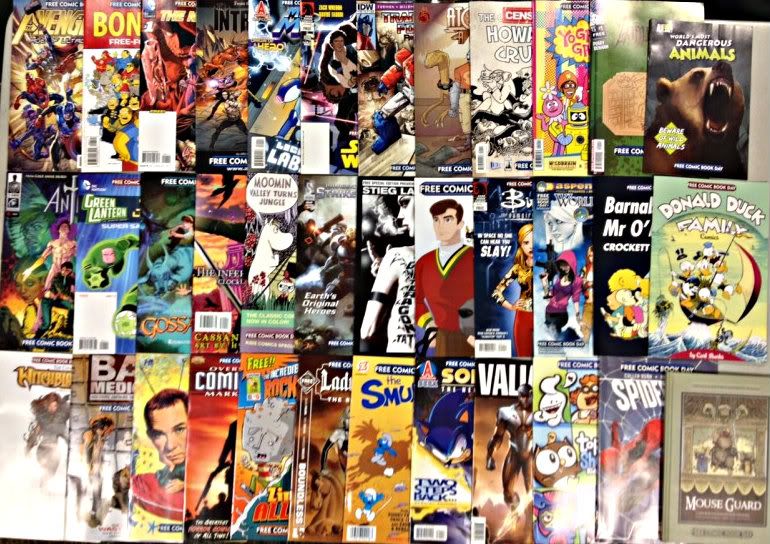 Animal Planet: World's Most Dangerous Animals
Publisher: ZENESCOPE ENTERTAINMENT INC
(W) Joe Brusha (A) Various
This Free Comic Book Day edition of Silver Dragon Books' first Animal Planet graphic novel gives a sneak peek at terrifying encounters between man and beast, illustrating what happens when humans interact with the World's Most Dangerous Animals!
Barnaby and Mr. O'Malley
Publisher: FANTAGRAPHICS BOOKS
(W/A) Crockett Johnson
Before Harold and the Purple Crayon, there was Barnaby. Created by Crockett Johnson, Barnaby ran in newspapers for over ten years (1942-52). Its subtle ironies and playful allusions won many passionate readers as they followed the adventures of 5-year-old Barnaby Baxter and his cigar-chomping fairy godfather Jackeen J. O'Malley.
Bongo Comics Free-4-All/Spongebob Freestyle
Publisher: BONGO COMICS
(W/A) Matt Groening & Various
Bongo offers the best in humor comics with a proud tale from the boasting barflies of Moe's Tavern, as they recount their close encounter with marauding beasts as members of the Springfield Bear Patrol. And Sergio Aragonés joins the fun with a story from his own past of how he made his first peso as an underground and underage artist. Then, flip over the book for two of the swimmingest SpongeBob sagas from the series' hard-to-find earliest issues. In "Squidward and the Golden Clarinet," SpongeBob reads an issue of Mermaid Man to a less-than-welcoming Squidward. But this story has a musical hook even Squidward can't resist. Plus: a page of gags that go off the deep end by indie artiste James Kochalka.
DC Nation/Superman Family Flip Book
Publisher: DC Comics
(W) Art Baltazar, Franco, Various
(A) Dario Brizuela, Art Baltazar, Various
This super sampler is the place to check out Green Lantern Adventures and Young Justice, two sensational new comic series from the DC Kids line based on Warner Bros. animation's popular Green Lantern: The Animated Series and Young Justice, featured on the upcoming DC Nation programming block on Cartoon Network. The sampler includes two exciting, all-new stories that readers of all ages will enjoy. Plus, get a sneak-peek at the brand-new Superman Family Adventures monthly series from the Tiny Titans creative team!
Donald Duck Family Comics
Publisher: FANTAGRAPHICS BOOKS
(W/A) Carl Barks
Three amazingly adventurous, thrillingly stupendous, wonderfully wonderous comics by one of the greatest cartoonists of all time! Carl Barks! CARL BARKS! The biggest name in cartoons, second to only Walt Disney! Find out what happens to Donald, Daisy, Uncle Scrooge, Gyro Gearloose, and Huey, Duey in these extremely entertaining and wonderfully told FULL COLOR comics!
Finding Gossamyr/Stuff of Legend
Publisher: TH3RD WORLD STUDIOS
(W) David Rodriguez & Various (A) Sarah Ellerton, Charles Paul Wilson
When a brilliant young boy named Denny solves the most perplexing puzzle in the history of mankind, he and his caretaker sister, Jenna, are transported to the fantastic land of Gossamyr, where math is magic and the boy's unique condition gives him incredible power. Finding Gossamyr is written by game designer/writer David A. Rodriguez and beautifully illustrated by talented newcomer Sarah Ellerton. Also in this issue: a special preview of The Stuff of Legend Volume 4!
Mega Man
Publisher: ARCHIE COMIC PUBLICATIONS
(W) Ian Flynn (A) Patrick "Spaz" Spaziante
"Let the Games Begin!" Part One: Don't miss the first classic issue of the hit new MEGA MAN comic series! The future looks bright when brilliant and benevolent Dr. Light unveils his latest creations: the Robot Masters! But when the nefarious Dr. Wily steals them for his own sinister purposes, there is no one left to stop him. No one – except Mega Man! Plus bonus features and a preview of the all-new series: The New Crusaders!
Moomin Color Special
Publisher: DRAWN & QUARTERLY
(W/A) Tove Jansson
Drawn & Quarterly offers a second FCBD title for the first time this year and it will feature one of our most beloved and popular characters, MOOMIN! The Moomin Color Special will offer a sneak peak at the brand new Moomin books, in color for the first time, that D+Q will publish in Fall 2012. The Moomin characters were created by Tove Jansson and have developed a dedicated fan base of both children and adults for over six decades. The comics presented here were originally published in b/w and have now been re-colored by Drawn & Quarterly, with careful consideration of Tove's palette. This will be the perfect All Ages comic book, ideal for developing a new readership of kids in the 6 to 12 age set. As a special bonus, this FCBD will also feature a 2nd preview of a new D+Q book, Anna & Froga, by Anouk Ricard.
Mouse Guard, Labyrinth, and Other Stories hardcover
Publisher: ARCHAIA ENTERTAINMENT LLC
(W) Jeremy Bastian, Nate Cosby, Royden Lepp, Jim McCann, Ted Naifeh, David Petersen (A) Jeremy Bastian, Chris Eliopoulos, Cory Godbey, Janet Lee, Royden Lepp and David Petersen
This Free Comic Book Day, Archaia offers readers the chance to experience history in the making with a FREE, gorgeous, 48-page, 6″ x 9″ full-color original anthology hardcover featuring all-new material! David Petersen returns with an all-new Mouse Guard tale that's guaranteed to tug at your heartstrings! Lose yourself once again in Jim Henson's amazing world of Labyrinth, featuring a fantastical story from Eisner Award-nominee Ted Naifeh (Courtney Crumrin) and Cory Godbey (Fraggle Rock). Get a new perspective on Jet Jones in Royden Lepp's critically acclaimed Rust, with a short story seen through the eyes of younger brother Oswald Taylor. Jeremy Bastian's acclaimed Cursed Pirate Girl hits the high seas in this whimsical, swashbuckling tale of wonderland journeys and unimaginable dangers. Nate Cosby (Pigs) and Chris Eliopoulos (Franklin Richards) present Cow Boy, a comedy/western that tells the tale of a young bounty hunter determined to send his entire outlaw family to jail. And Jim McCann and Janet Lee follow up their Eisner Award-winning Return of the Dapper Men with an all-new short story that leads into the upcoming sequel, Time of the Dapper Men. Witness the origin of a new, major character! And…the return of 41?!
Peanuts/Adventuretime Flipbook
Publisher: BOOM ENTERTAINMENT
(W) Charles Schulz, Vicki Scott, Ryan North
(A) Charles Schulz, Ron Zorman, Vicki Scott, Paige Braddock, Shelli Paroline, Braden Lamb
Two stories of two boys and their dogs — on one side, Charlie Brown and Snoopy, along with the entire Peanuts gang, come to Free Comic Book Day! On the other side — boy Finn and his dog Jake, along with the entire cast of the hot new Cartoon Network series Adventure Time, adventure in the Land of Ooo for Free Comic Book Day! Get your full KABOOM! dose of "Good Griefs" and "Algebraics" all in one book!
Rockhead and Zinc Alloy 2-For-None
Publisher: CAPSTONE PUBLISHING
(W) Scott Nickel, Donald Lemke (A) C.S. Jennings, Doug Holgate (CA) Doug Holgate
(W) Scott Nickel, Donald Lemke
(A) C.S. Jennings, Douglas Holgate
Two awesome adventures for the price of…NONE! Yep, that's right, folks. Meet the world's newest superheroes in this limited-edition, super spectacular FREE-VIEW! First, who's mightier than marble? Who's greater than granite? Who's smarter than, uh, a rock…? It's Chip Stone, aka The Incredible Rockhead, always ready to bash a few bullies! Then, hitch a ride with young Zack Allen as he takes his Zinc Alloy super-suit for a wild and wacky test-drive. A comic this jam-packed with heroics and hilarity is – well, priceless (i.e. totally free)!
Smurfs & Disney Fairies – featuring Tinkerbell
Publisher: NBM
(W/A) Various (CA) Peyo, Various
(W/A) Various
For years people have been asking for more comics for children, especially young girls. Well, Papercutz, for over seven years has been producing great graphic novels for all ages. This special flip-comic book highlights kid-friendly, world famous characters such as Tinker Bell and Smurfette, as well as new titles from Papercutz such as Dance Class featuring dance students and best friends, Julie, Lucy, and Alia, and Ernest & Rebecca, which features a six and a half year old Rebecca and her best friend, Ernest, who is a germ
Sonic the Hedgehog: Two Steps Back Special Edition
Publisher: ARCHIE COMIC PUBLICATIONS
(W) Ian Flynn (A) Ben Bates, Terry Austin (CA) Tracy Yardley
(W) Ian Flynn.
(A) Ben Bates, Terry Austin
"…Two Steps Back: SPECIAL EDITION" Genesis may be over, but that doesn't mean Sonic has saved the day! The Death Egg II still menaces New Mobotropolis, and Dr. Eggman has one more sinister trick up his sleeve. It's a desperate race against time as Sonic and Sally try to prevent another world catastrophe, and the ending will leave you speechless.
Spider-Man: Season One
Publisher: MARVEL COMICS
(W) Cullen Bunn (A) Neil Edwards (CA) Julian Totino Tedesco
(W) Cullen Bunn
(A) Neil Edwards
(CA) Julian Totino Tedesco
It's the Year of the Spider with Spidey's 50th anniversary, the debut of the blockbuster film Amazing Spider-Man, and the all new original Spider-Man Season One Graphic Novel! Do not miss out. Get the first chapter of the eagerly anticipated Spider-Man: Season One graphic novel from Cullen Bunn and Neil Edwards!
SCROLL TO KEEP READING THIS POST
Top Shelf Kids Club
Publisher: TOP SHELF PRODUCTIONS
(W/A) Andy Runton & Various (CA) Chris Eliopoulos
(W/A) Andy Runton & Various
(CA) Chris Eliopoulos
Top Shelf is proud to join the 2012 FREE COMIC BOOK DAY celebration with not one, but six all-ages tales. In this FCBD edition, we present adventures from our kid-favorite titles: Owly by Andy Runton, Johnny Boo by James Kochalka, Korgi by Christian Slade, Okie Dokie Donuts by Chris Eliopoulos, Pirate Penguin Vs Ninja Chicken by Ray Friesen, and Upside Down by Jess Smart Smiley. Perfect for everyone in the family. With a great cover by Ray Friesen this time around to boot!
Voltron Force: Shelter From the Storm
Publisher: VIZ LLC
(W) Brian Smith (A/CA) Jacob Chabot
(W) Brian Smith
(A/CA) Jacob Chabot
After a mysterious disappearance, the mighty Voltron is back! Now the original Voltron pilots – Pidge, Hunk, Lance, Allura and Commander Keith – are training three new cadets: Daniel, Larmina and Vince. Each cadet brings something special to the team, and as they train, the depths of their gifts are revealed. And with King Lotor and his villainous minion Maahox out to destroy Voltron once and for all, the day that these new cadets must step up may be sooner than expected!
Yo Gabba Gabba Free Comics Book Time
Publisher: ONI PRESS INC.
(W) Jamie S. Rich & Various (A) Mike Allred & Various (CA) Parker Jacobs
(W) Jamie S. Rich & Various
(A) Mike Allred & Various
(CA) Parker Jacobs
From the hit Nickelodeon show! Come join your Gabba Land pals Muno, Foofa, Brobee, Toodee, Plex and, of course, DJ Lance Rock, for a series of fun-filled adventures! Plus, an awesome Super-Martian-Robot-Girl tale, too!
So be sure to stop by your local comic book store and participating library too and pick up some great free comic books, pick up something else for yourself, and share the love of reading comic books.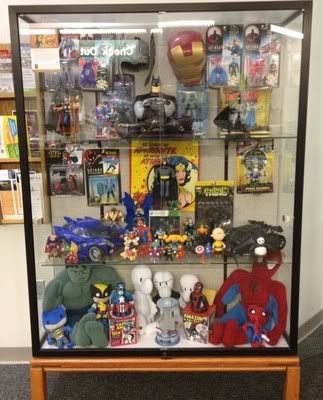 Filed under: Reviews
About Mike Pawuk
Mike Pawuk has been a teen services public librarian for the Cuyahoga County Public Library for over 15 years. A lifelong fan of comic books and graphic novels, he was chair for the 2002 YALSA all-day preconference on graphic novels, served as a judge for the Will Eisner Awards in 2009, as well as helped to create the Great Graphic Novels for Teens selection committee for YALSA. He is the author of Graphic Novels: A Genre Guide to Comic Books, Manga, and More, and co-author of the follow-up book Graphic Book II both published by Libraries Unlimited/ABC-CLIO Publishing.