Review: Amazing Spider-Man issues #668-#672
For a man who's been around for 50 years this year, Peter Parker (AKA Spider-Man) is not known for having an easy life (as the original theme song says: "Wealth and fame, he's ignored / action is his reward") – he's had his share of ups and downs, but you can be assured that with Dan Slott's writing on Marvel Comics' title Amazing Spider-Man, there's nothing but up for the adventures of Peter Parker.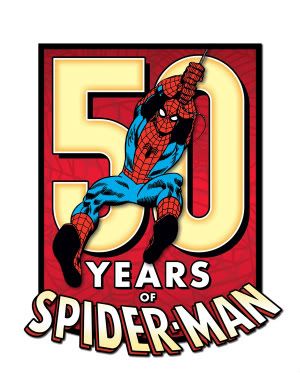 Dan Slott has been writing the Amazing Spider-Man monthy comic book series since issue #546, with the controversial "Brand New Day" storyline, which he co-wrote with a rotating team of writers. Now he has taken over the writing chores of Amazing Spider-Man full time, and he has proven to be one of the most engaging Spider-Man writers, able to write stories that range from funny to serious but still stay true to the original incarnation of the character.
SCROLL TO KEEP READING THIS POST
For those of you not up to speed on the current status of Spider-Man/Peter Parker, he no longer works for the Daily Bugle newspaper as a photographer under the control of J. Jonah Jameson, who was always out to frame Spider-Man as a menace to New York City. Now Jameson is the mayor of New York and Parker is working at Horizon Labs, a small think-tank group that focuses on creating the technology of the future for today. Parker was always a junior scientist, since he first got bitten by a radioactive spider (showcased when he invented Spider-Man's signature web shooters), and it's the perfect vehicle for Spider-Man to try out new costumes and technology for assisting against villains, as well as for Parker to create something that benefits others. Horizon Labs is run by Max Modell, and Parker works alongside six other lead scientists.
Amazing Spider-Man #678-679 "I Killed Tomorrow."
Written by Dan Slott
Illustrated by Humerto Ramos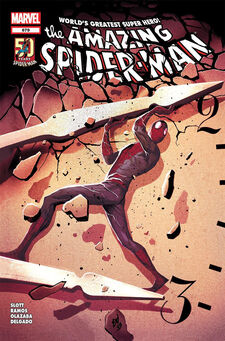 Peter Parker's co-worker at Horizon labs shows Peter his latest invention—a doorway to tomorrow. When you walk through it, you literally are there the next day. Peter walks through the doorway and sees a New York that is destroyed. Now Peter and Grady (with a little help from Spider-Man) have 24 hours to figure out what happened to New York and help solve what went wrong. I'm a sucker for time travel stories, and this was really fun.
Amazing Spider-Man #679.1
Written by Dan Slott and Chris Yost
Illustrated by Matthew Clark, Tom Palmer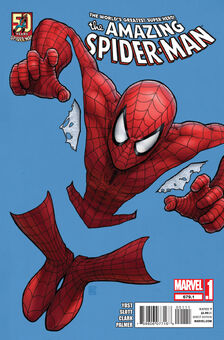 A special stand-alone issue where the mystery Number Six scientist working in anonymity at Horizons Lab is revealed to be none other than Morbius the Living Vampire, and young scientist Uatu rises to the cause to help Spider-Man. As the number reflects, it's a stand-alone issue to serve as a jumping on-point for new readers and also serves to focus on future storylines.
Amazing Spider-Man #680-681
Written by Dan Slott and Chris Yost
Illustrated by Giuseppe Camuncoli and Klaus Janson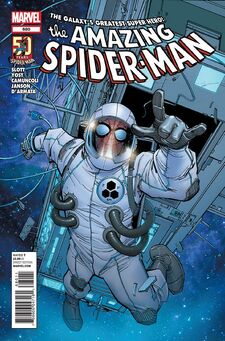 J. Jonah Jameson's astronaut son, Col. John Jameson, is in danger while on the Apogee 1 space station, which was designed by Horizon Labs. Naturally, Parker tries to help as Spider-Man gets help from the Fantastic Four's Human Torch (Johnny Storm) to rescue Col. Jameson and the crew on the space station from a mysterious menance that is turning all the crew into zombie-like minions of Doctor Octopus. The two-parter is co-written by Chris Yost, who is also known as the head writer for the animated Avengers: Earth's Mightiest Heroes series, and he and Slott absolutely nail the witty banter between Spider-Man and the Human Torch, who have a long and very humerous relationship that really comes through in this story arc. The resolution ties into the big six-part storyline called "Ends of the Earth."
Amazing Spider-Man #682-683 "Ends of the Earth" – parts 1 & 2 of 6
Written by Dan Slott
Illustrated by Stefano Caselli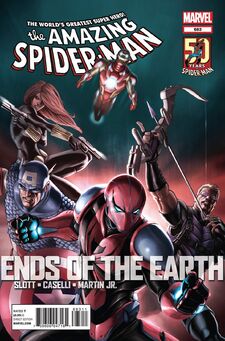 The big six-part storyline features the return of Spider-Man's group of villains, the Sinister Six (Doctor Octopus, Sandman, the Chameleon, Mysterio, Electro, and the Rhino). A dying Doctor Octopus puts his plan in motion and sets out to…cure the world of Global Warming??? Naturally Spider-Man doesn't believe a word of Doc Ock's supposedly benevolent side even if he really is dying, and Spider-Man assembles the Avengers to aid in bringing down the Sinister Six. Issue #683 also features another of Spider-Man's high tech armor costumes, one of the best fights between the Avengers and the Sinister Six, and Al Gore getting punched by Spider-Man. Say no more. The next four issues to conclude the story arc are sure to be epic.
All the issues are rated T for Teens, but the material is pretty accessible to younger readers too. Issue #678 briefly mentions that Max Modell has a partner, but it doesn't distract from the story. Issue #679 has a spread page of Parker's co-worker Grady seeing a future scenario where even Spider-Man is dead, but it's handled tastefully. Even a scene in #682 where a firefighter's leg is frozen and breaks off (later to be reattached) is done tastefully and not full of gore. I would suggest fourth grade and up, but younger readers may enjoy it as well.
If you have been away from Spider-Man for awhile or thought that Marvel Comics titles are little more than more of the same old same old, give Amazing Spider-Man a try. I hope you'll be as pleasantly surprised if you pick up the single issues or "wait for the trade" to find out how "amazing" this series truly is.
Mike Pawuk reviewed the single issues of the Amazing Spider-Man monthy comic books. The books were provided by Carol & John's Comic Book Shop in Rocky River, Ohio.
Filed under: Reviews, Young Adult
About Mike Pawuk
Mike Pawuk has been a teen services public librarian for the Cuyahoga County Public Library for over 15 years. A lifelong fan of comic books and graphic novels, he was chair for the 2002 YALSA all-day preconference on graphic novels, served as a judge for the Will Eisner Awards in 2009, as well as helped to create the Great Graphic Novels for Teens selection committee for YALSA. He is the author of Graphic Novels: A Genre Guide to Comic Books, Manga, and More, and co-author of the follow-up book Graphic Book II both published by Libraries Unlimited/ABC-CLIO Publishing.